The 5th edition of the Barcelona Beer Challenge (2020), had a brand new winner, breaking medal records (6), Edge Brewing was proclaimed THE BEST BREWERY 2020, winning 2 gold medals with the styles English Strong & Old Ale with the Trad Jazz beer and Spice, Herb or Vegetable Beer with their Gose Margarita, 3 silver medals with one American Strong Ale presenting the King Tide, one Fruit & Spice Beer named Piña Colada Sour and doubling podium with a Spice , Herb or Vegetable called Barrica 25 and finally won a bronze with an Specialty IPA featuring their beer Dive. We would like to know more about this project, and we met virtually to learn about this interesting project, located in Poblenou (Barcelona) to discover the good know-how of a great team who are keen to experiment and unite the beer world. Robin (currently Head Brewer) will help us in this task. Let's start…
Almost everyone knows Edge Brewing, but in case anyone it's a little bit lost, … How do you describe Edge Brewing? Who is part of the team? How was the project born??
Edge Brewing is a craft brewing established in Barcelona in late 2013, early 2014, by two Americans, Scott and Alan: Scott a very keen home-brewer, and Alan an experienced brewery engineer with 330+ installs under his belt with Premier Stainless Steel.
Scott and Alan were introduced to the Catalan craft beer scene here by me, that I was already a local resident, on trips to Barcelona in 2011 and 2012. They soon became enamored with the food and drink culture here, and with the energy and excitement of a craft beer scene at the pioneering stage of its development.
Nearly seven years, and various brewers later, the current team is made up of Elliott (formerly Hop Cream), Agus (formerly Quer), Vicente (formerly Almogàvers), and Ivan (formerly Garage Beer Co.) as well as I and Marc (Edge team members pretty much since the beginning).
We know that you are very active in creating new, original, and innovative styles. How is this creation process? We also see that you are really into the collabs, is it related to this creative process?
Our current approach to "creating" beers is to combine the best of what we have brewed in the past, with what we continue to learn from fellow brewers.
This is one of the reasons why we love collaboration brews and beer festivals: you get to pick up ideas from other brewers. These collaborations often come about through festivals. Sometimes you meet the beers before you meet the brewers, and that sparks an interest in meeting them and finding out how they approach the brewing process. Either way, we choose to do collaborations on the basis of having met and got along with the people at the collaborating brewery, and because we admire the beers they brew. Before you know it, you are knocking ideas back and forth, and a collaboration is in the making. This can happen on the local craft beer scene, or through our travels on the international craft beer scene over the years. We generally fit collaborations into our schedule whenever we can.
How did you reinvent yourself this hard year? You are very active in networking, elaborating new creations and doing popup stores in your factory.
2020 has been a challenging year for us like most small breweries, frustrating in particular because we had begun to sell a greater proportion of our beer locally, in and around Barcelona, freshly brewed and served on draught.
While we are brewing substantially less in volume, we continue to brew as much as ever in terms of variety. Essentially, we are brewing smaller batch sizes, and we are packaging more in bottles and cans.
We've taken this opportunity to try out new things, and we've been emboldened to be a bit more adventurous with fruit additions – it's almost been like we brew each time as if it were our last chance! Beers like MIAMI VINCE, [HEART]BEETS FOR HAKET and SNOWED IN, are the outcome of us being more adventurous in recent months.
The onset of Covid19 happened to coincide with working with a new partner on our social media, Ohm Sweet Ohm, who have followed Edge from the early days. Oscar and Maria have a genuine affection for craft beer, local and international. So, yes, ardent followers of Edge and our social media, we hope, will have seen that our posts and pictures provide an authentic representation of what Edge is about today.
The pop-up shop is also an outcome of "these times". But it is also a result of something we have dealt with down the years, answering the door to people wanting to buy beer direct from the brewery. The shop is set up at the gate to the brewery every Thursday and Friday afternoon so that fans of Edge beer and craft beer lovers living nearby can buy cans, bottles, packs and 1.5 litre growlers of our beer to take away. It provides a brief touch point with the public.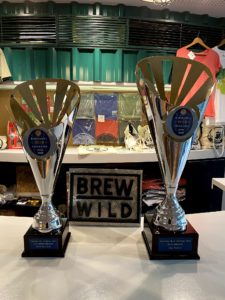 What motivates you to take part of the Barcelona Beer Challenge?
Participating in the BBC gives us the chance to have our beers evaluated systematically by an independent panel of beer judges. The feedback is useful, and can sometimes feed into recipe or process development. And then there's the fun part! We've done well in previous editions of the BBC, coming close the year that Founders won Best Brewery. As a team, we always enjoy celebrating winning medals. In fact, that is probably the most important outcome for us, the sense of achievement and recognition for hardwork done back here at the brewery. So this year it was great to win the big prize – an accumulation of layers and layers of different people's input and efforts over the years
How do you choose the beers that go to competition? And how do you choose the category to register each beer? Is it a complex process? Do you have an expert on the team to make that choice?
As we have participated each year we have become more familiar with the categories and their requirements. The process of choosing entries for 2020 consisted of pulling out all the potential beers we could enter, and tasting them all as a team in our tasting room. Things got quite animated, and we had a lot of laughs doing this, but in the end, Marc (our Barcelona sales guy, and a BCJP-certified Judge himself) and I sat down together the next day, pulled the team's comments together, and submitted the beers according to best fit. You have to be careful with definitions of nuts and fruit and ingredients such as coconut, in some categories.
Will you recommend the BBC experience?
We have attended previous BBCs pre-Covid and it's great to see friends and colleagues go up to the stage in front of our community and collect medals. The experience of winning this year, under such exceptional circumstances, was kind of bittersweet, however. Although the BBC did a stirling job under the circumstances, with a virtual award ceremony, we hope there is ONLY ONE YEAR LIKE THIS! When the news came through from Mikel Ruis via YouTube, our team was spread out, at home of course. We will remember each of us being over the moon, jumping up and down cheering in our living rooms. But then also wanting so much to celebrate with good beer, friends, cheers, hugs, photos, laughs and so on. We will also remember the kind messages that came in thick and fast on our mobiles from friends and colleagues both inside and outside craft beer.
This year's awards ceremony was a little special, you had two ceremony awards: one was virtual and the other one was at the Brew wild in Barcelona, ​​how do you remember those moments?
We really appreciated the ceremony that Beer Events and Brew Wild put on for us and our fellow big award winners, once lockdown had lifted. It was small but intimate, and great to see people after so much time locked down. We partied pretty hard with the guys from Cierzo, who took the Best New Brewery award. It also reminded us how great it is to have Brew Wild's pizzas here in Barcelona now – a great addition to the Bierxample.
Honestly, it's a strange year to comment on the Barcelona Beer Challenge, because of the thoroughly exceptional events of 2020. The guys did a great job of responding to the circumstances. And as a brewery, we were over the moon to have received the Brewery of the Year award, especially given the growing number of breweries entering each year, and the increasingly stiff competition. We're really looking forward to being back together in 2021. That's the most important thing. That and tasty beer!