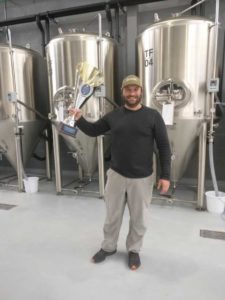 In the last edition (2019) of the Barcelona Beer Challenge, Cervecera Península received the special prize for the BEST NEW BREWERY by winning three more-than-deserved awards: silver in Specialty Wood-Aged Beer with BA Winter Ale 2017, bronze in Double IPA with Galactic Sunset and another bronze in Other Specialty IPA with Galactic Sunrise.
Just like the award for the BEST BREWERY for La Pirata, Peninsula's recognition caused little surprise and there was a broad consensus that it was deserved because the Madrid brewery has been one of the new stars of the sector in the last year, providing great beers to taps across the country.
On a trip to Madrid, we were able to visit the Peninsula facilities in Alcobendas and have a long talk with Román Jove and some of the team. The project is bursting with enthusiasm, with clear ideas and some extraordinarily solid first steps.
Cervecera Peninsula began to develop in its native Venezuela with the 'Microcervecería Ávila' microbrewery, which, coincidentally, won gold in the Old Ale category of the first edition of the Barcelona Beer Challenge in 2016. After solid training at UC Davis, Román and his father decided to develop their project in Spain since part of the family already lived there. In view of the result, it was the perfect decision.
Inspired by American microbreweries, Peninsula highly values its taproom that opens three evenings a week and is filled with workers from the business district where it is located. "Direct sales obviously generate more revenue per unit, but if we open the taproom it is to create a direct link with our public and be able to get to know each other first-hand. The people who come to see us often leave delighted and with new Peninsula fan status."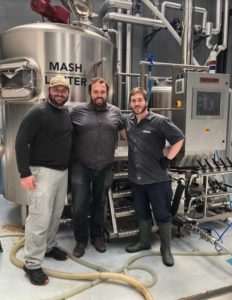 The beer scene in Madrid has vastly changed in recent times with the emergence of large breweries participating in the capital of craft breweries. This has caused a hardening of the market and more aggressive commercial practices. Román is in no doubt: "We are not going to enter into this dynamic. We have a very distinctive product which the client appreciates, understands the higher cost of and happily pays for."
When asked about the impact of the award for the best new brewery, Román is convinced: "It has been a very important accolade for us. We have received several customers and distribution proposals from many places. The visibility it has given us is priceless."
The hours pass between pints of good beer and conversations of mutual passion about the sector. The time shared with the people at Cervecera Peninsula has been a real pleasure and we could not be more certain that this project will continue to be one of the most interesting in the country.